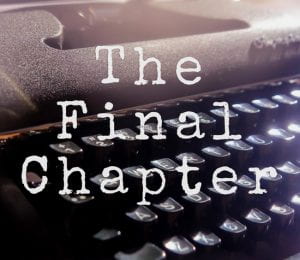 I am a fan of short, crisp chapters. Something that worried me about my first chapter was the length. At 8pp it seemed a bit long, but was held together by the same scene. It must have worried me, because I couldn't sleep and got up to split the chapter into two. It wasn't easy, but at least I could now get back to sleep—that is, until I decided to add another chapter to the end of my novel. This is the fun part and why I love writing. By adding another end chapter, I was able to complete a plot circle and connect with an earlier character. It brought some threads together and had the added bonus of giving freedom to my protagonist to enjoy a new, and better, life. This new chapter took my lead character out of the shadows and into the sunshine. I also wanted an ending that finished my novel, yet opened the possibility of another. It goes something like this;
["This is Maria."
"Pleased to meet you and thanks for joining us," I say. She is wearing a wedding ring and I ask, "Is your husband joining us?"
Maria looks away and drops her head. All I can say is, "I'm sorry I asked."
"It…it's O.K. He died at sea."
I change the subject. "Rian, what are we drinking?"
"Ombra, a fine Prosecco from northern Venice."
"What does ombra mean?" I ask.
"It has a story," Rian replies. "In Venice, many years ago, a wine merchant set up his cart at the foot of the bell tower in St. Mark's square. As the day wore on, he moved his cart to stay in the shade and keep his wines cool and fresh for the customers. Ombra means shade or shadow. Here, try some."
The taste was a burst of refreshing citrus after the hot afternoon. Like the wine seller in Rian's story, my time at MI6 had been spent chasing shadows.
I raise my glass, "To new friends and a better future." As I swallow, my eyes meet Maria's and sunshine fills my soul at last.]