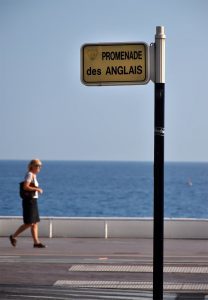 Pierre and David split up to make their way to the Negresco hotel via different routes.
[novel extract: Pierre decided to walk from the café through the park at Jardin Philippe 1er. He had always enjoyed the fountains and green spaces here during previous visits to Nice and today was no exception, although he was in more of a hurry than usual. Pierre recalled an old picture he had once seen that showed that the park connected to a seaside pier, much like those in the south of England.
"It must have been a posh destination back then," he thought as he began to walk towards Le Negresco Hotel along the Promenade des Anglais. He imagined the landed gentry visiting Nice from all over Europe during its heyday – the delicate parasols, colorful dresses and rounded cloche hats. In fact, he was so distracted that he was caught completely off guard when a car pulled up alongside – a plain white Citroën. A friendly voiced called out,
"Excusez-moi monsieur, is this the way to Cannes?" ]
As it turned out, the busy promenade was probably not the best choice for Pierre!