In a strange coincidental moment, Evie enjoys the cover of 3 WISE MEN – a thriller that includes another Evie!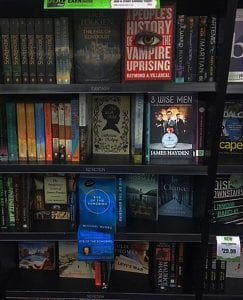 How wonderful to see 3 WISE MEN in the local bookshop! I am still getting consistent positive feedback and it seems that everyone who reads this new thriller is unable to put it down. This is an honor, especially when it is from my own daughter who said today, "It is a good book – really good!" For an avid reader, that is genuine praise and a wonderful surprise. But then, I have always believed in the story.
The most difficult part was taking this belief and turning the plot into something that became special for my readers. Another comment from someone this morning was, "It had me guessing – but then, I suppose that, as the author, you didn't really know what was going to happen either!" I laughed, but had to agree (to a certain extent).