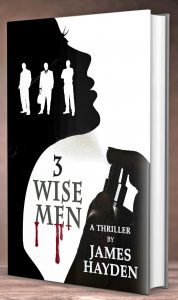 3 WISE MEN – A New Thriller!
Jak Colins flies to Milan to share his priceless discovery – a powerful formula with the potential to disrupt a multi-billion dollar industry that has attracted men and woman since ancient times. But, he soon becomes the object of unscrupulous rivals who take drastic measures to unlock his secret. Will the modern-day 3 Wise Men be able to ensure that Jak's formula – based on a genuine 4,000 year old manuscript – remains in safe hands?
3 WISE MEN weaves an intellectual thread into the cloak of intrigue and danger that envelops Jak. 3 WISE MEN is a contemporary thriller at just over 82,000 words. It is set mainly in Milan, Tel Aviv, the French Riviera and on the Italian coast.
Author insights for 3 WISE MEN, plus novel extracts, will be posted here. Subscribe for updates on this blog or use LEAVE A COMMENT below to ask any question directly to author James Hayden about 3 WISE MEN!