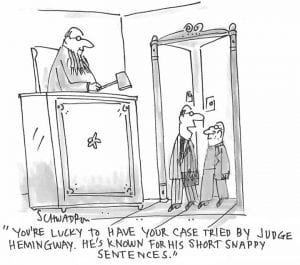 I was pleased with myself. Chapter One for my new novel read perfectly; at least I thought so. But I needed an independent critic – someone I trusted to be honest, even brutally honest, and give constructive feedback. Aha! I had the perfect person – my wife! She endured endless revisions of my first thriller and was keen to read my second. I was anticipating a great response to Chapter One. "Did you like it?" I asked. The reply was not what I expected.
"Well," she replied, "I just could not get into it."
Shock, horror. "Why not?"
"I dunno. It was just too technical. But, I was tired when I read it, so I will try again."
There it is! She was tired. I am let off the hook; the chapter is good after all? I waited for her second take.
"No, it just doesn't gel for me."
"Damn!" What did I do wrong? I spend hours on this opener and now it has fallen flat. I need to really think hard about this; not rush it; give it another angle.
Hours later – days actually, and I had an idea; an approach that was based on human interaction and left out most of the technical details. "Here is a new Chapter One."
"O.K.," she said, "I'll read it later."
…
"What did you think?"
"Much better, and it drew my interest. It also reminded me of an event at one of your schools."
I was relieved, but learned an important lesson, and thanked my best critic – my wife!