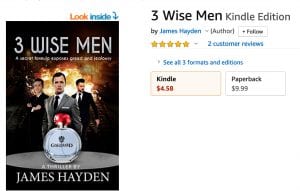 I was having a meeting with a colleague over coffee earlier this week, when the conversation moved onto the subject of 'reading'. I mentioned that I had just finished my first novel and that it was available on Kindle. My friend got out his phone and quickly looked it up.
"Only $US3.99! That's nothing – I will order it now."
I was surprised and delighted that he wanted to read 3 WISE MEN, and even more delighted that he found the price to be so reasonable. But, when I thought about it, it was about the same price as the coffee I had just ordered for him.
I hope you also enjoy reading 3 WISE MEN at less than 1.5c per page!